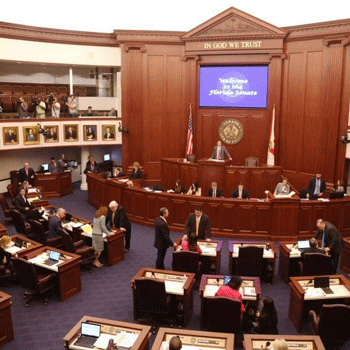 Earlier this month, Dr. Thomas Blomberg, Dean of the College of Criminology and Criminal Justice,  delivered a presentation to the Florida Senate Criminal Justice Committee which explored racial/ethnic differences in the Florida Criminal Justice System, which was covered by the Tallahassee Democrat.  As the Democrat noted, Dr. Blomberg's presentation raised thought provoking questions for Senators, including Sen. Jeff Brandes (R – St. Petersburg), about whether Florida should invest in opportunities for employment and other ways to ensure that prisoners can successfully reenter society when their sentences end.
View the full Democrat article.
This presentation kicked off the College's recently established partnership with the Florida Senate.  Through the partnership the College will analyze the racial and ethnic impact of proposed criminal justice legislation.
Currently, Senate Professional Committee Staff produce a formal bill analysis each time a bill receives a hearing in a Senate Committee. The existing analysis provides a broader context on the wide-ranging impact of a particular bill, addressing topics including fiscal, private sector, and constitutional impacts. However, it does not address the racial and ethnic impact of proposed legislation.
In light of the effect criminal justice legislation can have on minorities and minority communities, this lack of consideration was problematic to Sen. Randolph Bracy (D-Ocoee) who, with the support of Senate President Bill Galvano (R-Bradenton), reached out to Dean Thomas Blomberg and the researchers at the College of Criminology & Criminal Justice to propose a solution.
To address this gap in analysis, the current initiative seeks to measure the racial impact of a policy, and whether a bill possesses a disproportionate impact on a racial or ethnic group and  the extent of that impact. By analyzing publicly available data from state agencies, the College will conduct time-series analysis that will provide forecasts of proposed legislation on various racial and ethnic groups. This analysis will be used for a non-partisan, empirical data-driven "Racial and Ethnic Impact Statement" to address the possible impact proposed legislation can have on a particular racial or ethnic group. Moreover, all of the College's faculty and numerous graduate and undergraduate students will participant in this major initiative.
Watch the full presentation on the Florida Channel. 
Learn more about the College's partnership with the FL Senate.