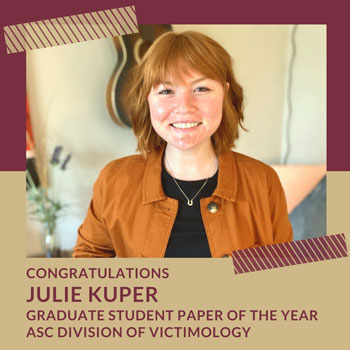 The College of Criminology & Criminal Justice is pleased to announce that Ph.D. student, Julie Kuper, has been honored with the Graduate Student Paper of the Year award from the American Society of Criminology (ASC) Division of Victimology.
Ms. Kuper was nominated by Associate Professor Jillian Turanovic for her article, "Adjustment problems in early adulthood among victims of childhood physical abuse: A focus on adolescent risk and protective factors."
Ms. Kuper's winning article, began as a term paper in Dr. Turanovic's undergraduate Victimology class in the spring of 2016 and then evolved into her honors thesis in 2017. When she entered the College's Ph.D. program in 2018, she returned to the topic with a deeper understanding and worked with Dr. Turanovic to finalize the analysis. Ms. Kuper then submitted the paper to Crime & Delinquency, where it was accepted for publication in 2019.
"Even though I provided guidance and help along the way – given that this was Julie's first experience working with data, putting together a full manuscript, and publishing an article – it is her work, her voice, and her accomplishment," said Dr. Turanovic.
Ms. Kuper's paper makes a significant contribution to the field of Victimology by identifying risk and protective factors that help explain why some physically abused children experience adverse outcomes and others do not.
Specifically, Ms. Kuper's article determined whether various protective and risk factors in adolescence—intelligence, family attachments, and neighborhood disadvantage—explained why some children affected by physical abuse fared better (or worse) than others in early adulthood. This article is especially impactful given that it bridges interdisciplinary scholarship on child maltreatment and human development by examining multiple outcomes (violent offending, depressive symptoms, and low self-esteem) and by drawing from research produced within criminology, sociology, psychology, and health.
This prestigious award is given to only two students in the nation for an exceptional published or unpublished paper on a victimology-related topic during 2019-2020.
"Julie is a fantastic young scholar with a bright future ahead," said Dr. Turanovic. "She is conducting important, high quality research, and this award is a well-deserved reflection of that."
Ms. Kuper will receive a formal plaque acknowledging this accomplishment, along with a cash award. Additionally, she will be honored on the ASC Division of Victimology social media page and newsletter.
Congratulations Ms. Kuper on this outstanding achievement!