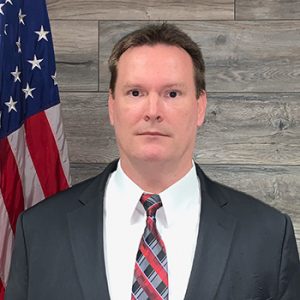 A sense of service, faith, family, and 1970s television programs led College of Criminology & Criminal Justice alumnus Jason Kaelin to his career in law enforcement and, ultimately, to his current position with the Federal Bureau of Investigation (FBI).
Mr. Kaelin's interest in law enforcement began early with his uncle, Bucky Shipley, a police officer in Zanesville, Ohio. Mr. Kaelin was enthralled with his uncle's police stories. In addition to his uncle's stories, Mr. Kaelin found himself enjoying other detective and police stories via 1970s television shows, such as Adam-12, Dragnet, Kojak, and Columbo. However, perhaps more important than the allure and excitement of such narratives, was Mr. Kaelin's parents and the strong faith and morality they instilled in him from a very young age. It was this higher calling that Mr. Kaelin credits as the defining reason he wanted to work in law enforcement. This same calling is why he continues to enjoy his work in the field today.
"I know it is a cliché, but the desire to help people and serve my community has always been what appeals to me in law enforcement," said Mr. Kaelin. "When I was in local law enforcement, I responded to calls for service. In most cases, I was dealing with people who were experiencing some type of crisis. In every situation, I sought to help the victims and bring the 'bad actors' to justice."
Mr. Kaelin credits Florida State University and the College of Criminology & Criminal Justice as a key part of his success in law enforcement. "When I was in high school, I read that FSU had one of the top Criminology programs in the country," Mr. Kaelin said. "In high school, I participated in the state wrestling championship in Tallahassee. It was my first time in Tallahassee and the city really appealed to me."
"I truly believe that I was privileged to learn from top notch professors, some of whom had significant impacts on my academic career," Mr. Kaelin elaborated. "I genuinely looked forward to attending my classes fueling a seemingly insatiable desire to learn more. I recall taking almost every criminology course offered."
Prior to his time with the FBI, Mr. Kaelin worked in local law enforcement serving as a police officer with the Jacksonville Sheriff's Office in Jacksonville, Florida, and as a Deputy Sheriff with the Clay County Sheriff's Office in Clay County, Florida.
"I enjoyed local law enforcement and found it fulfilling, but, admittedly, it is hard on your soul," said Mr. Kaelin. "I always had the intention of gaining experience in local level law enforcement with the ultimate goal of applying to the FBI to be a Special Agent."
His goal was realized in February 2001, when Mr. Kaelin began working for the FBI as a Special Agent, an agency he continues to work for today. Currently, Mr. Kaelin is assigned to the Public Corruption/Civil Rights (PCCR) Squad of the FBI Miami Field Office.
"I wanted to be a part of something bigger and the FBI certainly provides that opportunity," said Mr. Kaelin. "The FBI has the broadest investigative jurisdiction of any federal law enforcement agency. Additionally, the FBI is also the primary domestic intelligence agency in the United States. I have had the opportunity to work various violations and participate in numerous auxiliary duties over my twenty year career."
Mr. Kaelin recognizes the role the College played in preparing him for success in law enforcement training. Following his graduation, he attended basic recruitment law enforcement training in St. Johns County, Florida, where he was valedictorian of his class. He had similar success when he went through training at the FBI Academy in Quantico, Virginia, graduating in the top five in his class.
Mr. Kaelin has also found his experience at FSU directly applicable to his law enforcement career. "I was able to apply some of the policing theories, in particular, problem-oriented policing, at the local law enforcement level," Mr. Kaelin said. "On a broader level, having an understanding of the motivations behind criminality and an in-depth understanding of the interactions between the criminal justice components made me a well-rounded law enforcement officer."
Mr. Kaelin has also started a family tradition. His daughter, Jessica, is now a junior in the College of Criminology & Criminal Justice and she plans to follow in her father's footsteps and become a Special Agent in the FBI.