Leaders from the Leon County area's law enforcement agencies and Florida State University gave brief remarks and cut the ribbon on the Capital Region Real Time Crime Center (CRRTCC) on Friday, September 15. Speakers at the ribbon-cutting included CRRTCC Director Leslie Rabon, FSU President Richard McCullough, Leon County Sheriff Walt McNeil, Tallahassee Police Chief Lawrence Revell, FSU Police Department Chief Rhonda Harris, and FSU College of Criminology and Criminal Justice Dean Thomas Blomberg. FSU Criminology Professors Brian Stults and Julie Brancale, who are researchers with the CRRTCC, as well as graduate research assistants Jonathan Caswell and Alex Billmeier were recognized at the event.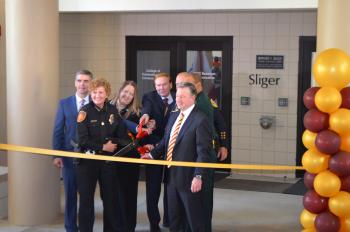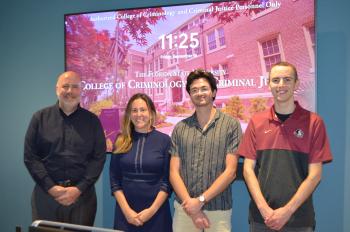 Dean Blomberg described the CRRTCC as a "major win" for all those involved and their surrounding communities. Sheriff McNeil described the CRRTCC as "one of the most important law enforcement milestones in the last decade." The CRRTCC brings together the resources of local, county, and university law enforcement and the nation's leading criminology researchers to make the community safer.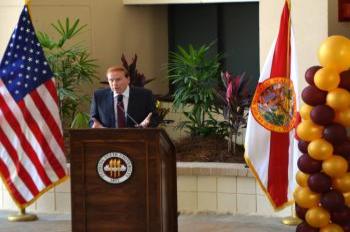 Housed at FSU's Sliger Building in Innovation Park, the CRRTCC is tasked with improving communication and coordination between law enforcement agencies. "At the center, analysts from city, county, and FSU law enforcement will be able to look at data together rather than separate silos" highlighted McNeil. Chief Revell (Tallahassee PD) stated that the CRRTCC will "change how we do law enforcement in Leon County."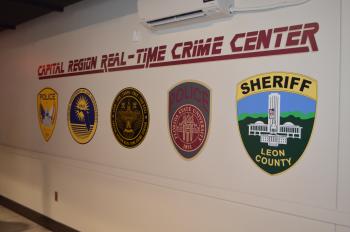 Analysts from participating agencies constantly monitor calls for service and begin gathering information on callers and potential suspects immediately as calls come in. This, together with live footage from over 1,000 cameras and technology such as license plate readers provides vital intelligence to officers in the field and allows for a "more comprehensive approach to crime" according to Chief Revell.
The CRRTCC has already demonstrated this more efficient, and comprehensive approach to crime, as it has assisted in numerous SWAT calls and in the recovery of more than 120 stolen vehicles since it began operating in February. The CRRTCC has also played a key role in several shootings and homicides which includes identifying a murder suspect from Tennessee that came to the Tallahassee area and a suspect involved with a shooting on the perimeter of FSU's campus.
An important aspect of the CRRTCC that sets it apart from other real time crime centers in the country is its research component. As a partner, faculty and students from the College of Criminology and Criminal Justice will collect and analyze data from the CRRTCC and evaluate crime-reduction policies. This includes identifying crime 'hotspots', police response times, case closure rates, and evaluating and identifying best practices for real time crime centers.
The CRRTCC also includes a teaching component with an in-house learning lab, in which FSU students can earn an educational certificate in crime analysis and intelligence. The ongoing research and teaching component provides students with opportunities to gain valuable experience and contribute to the center's success. In addition to assisting with data collection and analyses, FSU faculty and students are also conducting surveys of law enforcement officers on their use and perceptions of technology and Leon County residents about crime, safety, and satisfaction with law enforcement. This partnership with FSU Criminology demonstrates the "role of universities in producing change" as highlighted by President McCullough during the event.