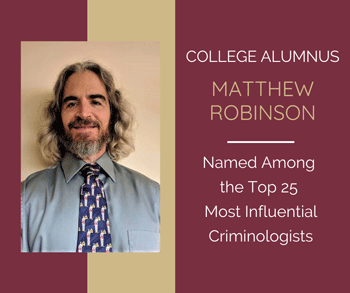 Matthew Robinson, College of Criminology & Criminal Justice alumnus and professor at Appalachian State University, was recently named among the Top 25 most influential criminologists by AcademicInfluence.com, coming in at the 19th most influential in the field.
Dr. Robinson's research interests have included social justice, race and crime, criminological theory, the death penalty, the "war on drugs," crime mapping, and white-collar crime. He has published more than twenty books, including Justice Blind?, Why Crime?, Crime Mapping and Spatial Aspects of Crime,Death Nation,Greed is Good, Criminal Injustice, Race, Ethnicity, Crime, and Justice, and more.
"Dr. Robinson, who received his undergraduate, master's, and doctoral degrees here at the College of Criminology and Criminal Justice, has had a spectacular academic and teaching career," said Dean Thomas Blomberg. "He continues to make us proud as he pursues critical criminological research and policy questions."
Dr. Robinson studied the use of the capital punishment in North Carolina, publishing a report titled, "The Death Penalty in North Carolina: A Summary of the Data and Scientific Studies." He found that the death penalty was not an effective deterrent and was more costly than life imprisonment.
He also has two of his own theories of criminality, one aimed at explaining antisocial behavior generally (integrated systems theory) and another at explaining corporate crime (contextual anomie/strain theory). But have been tested and supported by available evidence.
Additionally, Dr. Robinson challenged existing notions informing national drug policy, exposing the inconsistencies in data analysis and reporting by the Office of National Drug Control Policy. He has also been a vocal opponent of the USA Patriot Act, which he feels contains unconstitutional provisions that infringe on the rights of individual citizens. Dr. Robinson is currently working to create a Center for Social Justice and Human Rights at Appalachian State University.
AcademicInfluence.com is composed of academics and data scientists working together to provide objective, real-time rankings of influential people, places, and institutions. Their Influence Rankings offer a comprehensive picture of both the academic and real-world impact made by noteworthy individuals and their affiliated colleges or universities.