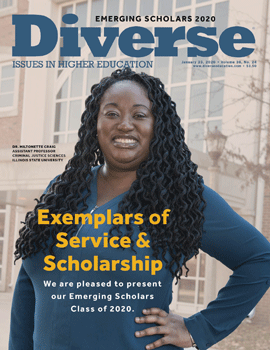 College of Criminology & Criminal Justice alumna, Dr. Miltonette Craig was recently recognized as a 2020 Emerging Scholar by Diverse Issues in Higher Education. Dr. Craig was one of only 15 scholars in the nation named to the prestigious list.
Dr. Craig was recognized for her research in police-community relations, race/ethnicity and crime, courts and sentencing, and prisoner reentry. In Diverse Issues in Higher Education, Dr. Craig expressed that though her scholarship can be both personal and painful, she values the opportunity to add to the literature on police bias and the opportunity to influence policy.
Dr. Craig has wasted no time adding to literature in the field. Her scholarly works have appeared in such publications as The Criminologist and the Journal of Criminal Justice. She has also contributed chapters to the books Caged Women: Incarceration, Representation, and Media and Criminal Justice in America: The Encyclopedia of Crime, Law Enforcement, Courts, and Corrections.
Dr. Craig has also sought to influence policy by presenting her scholarship across North America. Dr. Craig has spoken about her research involving racially disproportionate vehicle stops by Missouri police, the impact of community resources on reconviction rates for black and Hispanic offenders, and the counter productivity of order-maintenance policing. She has presented invited lectureships on education programs in federal prisons, social structure and crime, and individual rights during a search and seizure. She also led a session entitled "The New Jim Crow" for the first-ever Racial Equity Summit at the Town of Normal.
Dr. Craig completed her Ph.D. with the College of Criminology & Criminal Justice in 2018, and joined the faculty at Illinois State the same year. In her brief time at Illinois State, she has already earned an Impact Award, a university research grant from the College of Applied Science and Technology, and a research initiative award from African American Studies.
Dr. Craig serves as a co-advisor for Illinois State's Department of Criminal Justice Sciences' Breaking Barriers program to address the declining number of women enrolled in criminal justice sciences majors. She is also a member of the Academy of Criminal Justice Sciences, the American Society of Criminology, and the American Sociological Association.
Congratulations to Dr. Craig on her recent recognition and numerous achievements.