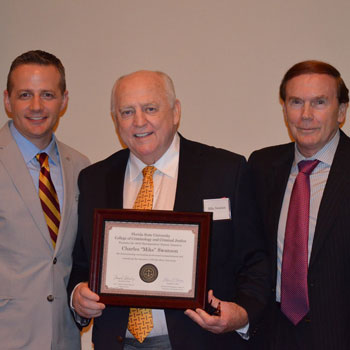 The College of Criminology and Criminal Justice regrets to announce the passing of alumnus and 2016 Distinguished Alumni Award Recipient, Dr. Charles Rudolph "Mike" Swanson.
Dr. Swanson earned both his bachelor's degree and master's degree from Florida State University.
In 2016, Dr. Swanson was recognized by the College with a Distinguished Alumni Award. Recipients of this award embody the strength, skill, and character of Florida State University and demonstrate outstanding professional accomplishments, service to the College, FSU, community and/or professional organizations.
Dr. Swanson epitomized this award. He was an expert in integrating theory and practice within law enforcement and promotional systems. Dr. Swanson spent 29 years of his career with University of Georgia's Vinson Institute of Government helping to strengthen Georgia law enforcement agencies. He served as the director of the Institute's Southeast Law Enforcement Training Programs for over a decade. In that time, he trained more than 10,000 police officers from over 40 states in topics ranging from homicide investigation to organizational theory.
"Dr. Swanson will be deeply missed," said Dean Thomas Blomberg. "He was talented, motivated, professional, and, above all, a gracious person. He was the kind of individual we hope all our graduates aspire to be."
Dr. Swanson passed away on June 29, 2020. He is survived by his wife of 18 years, Paige Mercer Cummings; daughter, Traci Efird (Brian), step-granddaughter, Olivia Efird, of Saudi Arabia; daughter, Kellie Pless (Stephen) and their daughter, Keira, of Auburn; stepson, Colin Cummings, of Athens; brother, John Randolph Swanson (Deborah), of North Carolina; sister, Christine Swanson, of Tampa, Florida; many loving nieces and nephews.