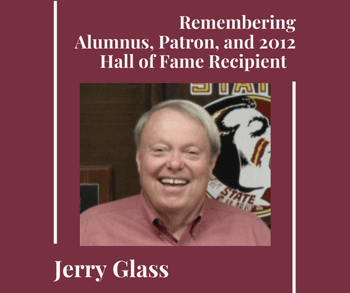 The College of Criminology and Criminal Justice regrets to announce the passing of alumnus, University patron, and 2012 Hall of Fame Award Recipient, Mr. Jerry Glass.
Mr. Glass earned his bachelor's degree in criminology from Florida State University in 1971.
In 2012, Mr. Glass was recognized by the College with a Hall of Fame Award. Recipients of this award embody the strength, skill, and character of Florida State University and demonstrate outstanding professional accomplishments, service to the College, FSU, community and/or professional organizations.
Mr. Glass truly defined this award. When Mr. Glass retired as an agent with the U.S. Department of Transportation in 1993, he knew he wanted to do something to help students who shared his love for law enforcement. Knowing all too well the difficulties of working full-time while pursuing a degree, Mr. Glass and his wife, Carolyn, decided to create the Jerry and Carolyn Glass Scholarship, the first scholarship for criminology and criminal justice majors created by an alumnus of the school.
Mr. Glass knew firsthand the benefits a scholarship provides to students, having started his studies at FSU in the College of Business as the recipient of the J. Edwin Larson Scholarship. Soon realizing that his interest was in law enforcement, he forfeited the scholarship, became a working student, and changed his major to criminology. He soon secured his first law enforcement job as an agent with the State Beverage Department. Later, he became an enforcement officer with the Public Service Commission.
Upon earning his B.S. in criminology in 1971, Mr. Glass was hired as a special agent with the United States Department of Transportation. During his 23-year career, Mr. Glass had assignments in Florida, Nevada, and Louisiana, serving as special agent in charge in each of those offices. After retirement, he and Carolyn returned home to Marianna, where Mr. Glass worked part-time as investigator with the public defender in the Fourteenth Judicial Circuit.
In addition to his work, Mr. Glass was a lifetime supporter of Florida State University. He was member of the FSU Alumni Association,  a Seminole Booster, and served as president of the Panhandle Seminole Boosters.  Further, through the Jerry and Carolyn Glass Scholarship Fund, Mr. Glass continues to prove his enduring dedication to helping students in the College of Criminology and Criminal Justice to pursue their life's goal.
"Mr. Glass will be deeply missed by the College of Criminology and Criminal Justice and the entire Florida State University community," said Dean Thomas Blomberg.
"He was among the best of our many outstanding alumni. Mr. Glass was wholly dedicated to the College and the University, particularly to ensuring a quality education for our students. He was also a mainstay who served tirelessly on the College's Board of Directors, raising funds for projects including the renovation of Eppes Hall and the construction of the Fallen Officer Memorial."
Jerry Albert Glass, 78, passed away on Sept. 1, 2020. He is survived by his wife of 58 years, Carolyn S. Glass, two daughters Anita and husband Johnny Hatcher, Suzanne Glass-Troutman and husband Rudy Troutman, as well as his grandchildren Caroline Ridley Troutman, Peyton Roy Glass Troutman, and Charlotte Rose Glass Troutman.