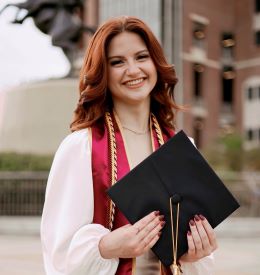 Sarah Wouters, a Ph.D. student at the FSU College of Criminology & Criminal Justice, was recently chosen as one of only five students from across the country to take part in the National Crime Victimization Survey (NCVS) Student Spotlight. This event is being held during the Bureau of Justice Statistics' upcoming 50th Anniversary Celebration of the NCVS on September 27 in Washington, D.C.
The NCVS Student Spotlight will allow Sarah to showcase her research in person at the Department of Justice and network with interested researchers, practitioners, and professionals.
Sarah's submission for the NCVS Spotlight was a study examining what drives students' fear of victimization on school campuses and their behaviors associated with that fear. Using the NCVS data, she specifically examined how student perceptions of school rule enforcement and disorderly campus conditions play a role in fear, avoidance, and weapon carrying at school.
Sarah says she is excited to present her research outside of a classroom setting for the first time.
College of Criminology and Criminal Justice Associate Professor Brendan Lantz noted he believes this will not be her last. He added, "The goal of the NCVS Student Spotlight is to show how students use the National Crime Victimization Survey data, and Sarah and her work deserve that spotlight. She is an outstanding student doing great work on victimization, and I believe she is just getting started. We will hear much about her accomplishments in this area in the future."
Sarah credits her education at FSU, saying, "My time at the College of Criminology & Criminal Justice was essential to my pursuit of the NCVS Student Spotlight. I owe much of this accomplishment to the faculty's unwavering support of my development in and out of the classroom. I cannot imagine that my project—let alone its recognition in the Spotlight—would have been possible without my learning experiences at the College."