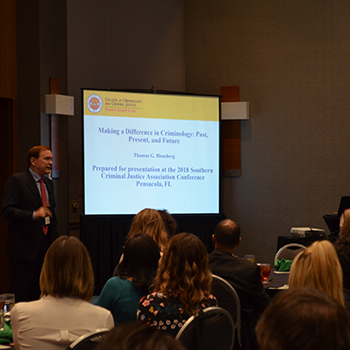 This fall, Dean Blomberg delivered the keynote presentation for the Southern Criminal Justice Association's annual conference in Pensacola, FL. His talk,  Making a Difference in Criminology: Past, Present and Future, documents how the field of criminology has evolved from being a reactive scientific discipline aimed at the determination of the social and economic causes of crime to a proactive applied disciplined designed to contribute to evidence-based criminal justice policies.
In the presentation, Dean Blomberg discusses the recent state of the field focusing on the "making a difference" movement in criminology since the early 2000s. He covers not only the development of the movement, but also its challenges, and prospects using many examples from the College's Center for Criminology and Public Policy Research.
"Over the past century, criminology has evolved as both an applied and recognized scientific discipline," said Dean Blomberg. "While the discipline has experienced shifts in its science versus applied focus, it appears that criminology is now poised to effectively combine both purposes thereby simultaneously advancing criminology as a science and an applied discipline."
Dean Blomberg identifies partnerships between researchers and policymakers/practitioners as the one of the most promising "best  practices" in combining both science and applied focus to "make a difference."
Read Dean Blomberg's full paper here.
View  Presentation slides here.
Thomas G. Blomberg is Dean and Sheldon L. Messinger Professor of Criminology and Executive Director of the Center for Criminology and Public Policy Research at Florida State University's College of Criminology and Criminal Justice. From 2008-2013 he served as Editor of Criminology & Public Policy. His current research is focused upon determining ways to more effectively link research to public policy and includes the role of education in crime and delinquency desistance and the identification of risk and protective factors associated with elder financial fraud. Dr. Blomberg has shared his various research and policy findings with state policymakers throughout the country, the U.S. Congress, and the White House Office of Science and Technology Policy. Among his recent books are American Penology: A History of Control, Punishment and Social Control and Advancing Criminology and Criminal Justice Policy.