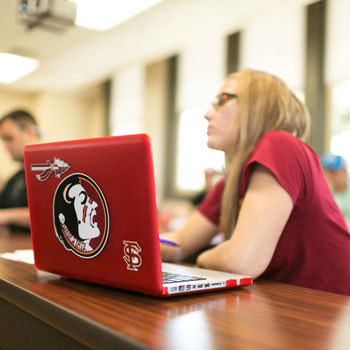 Five College of Criminology & Criminal Justice graduate students have been nominated for the 2018-19 Outstanding Teaching Assistant Award.
The College nominees include: Leah Butler, William Casey, Wesley Myers, Johnathan Reid, and Jessica Walzak.
"The College is extremely proud of these students for their contributions as teaching assistants," said Dr. Thomas Blomberg, Dean of the College of Criminology and Criminal Justice. "They have shown exceptional leadership, provided outstanding service, and contributed greatly to the intellectual community of the College."
Sponsored annually by the Florida State University's Graduate School, these awards recognize outstanding graduate student teaching assistants (TAs) for their distinguished contributions to student learning through excellence in instruction. Recipients of the Outstanding Teaching Assistant Awards (OTAA) are recognized at the annual spring Celebration of Graduate Student Excellence event which will be held Thursday, April 18 at the Alumni Center.
Congratulations to our students for this prestigious honor.