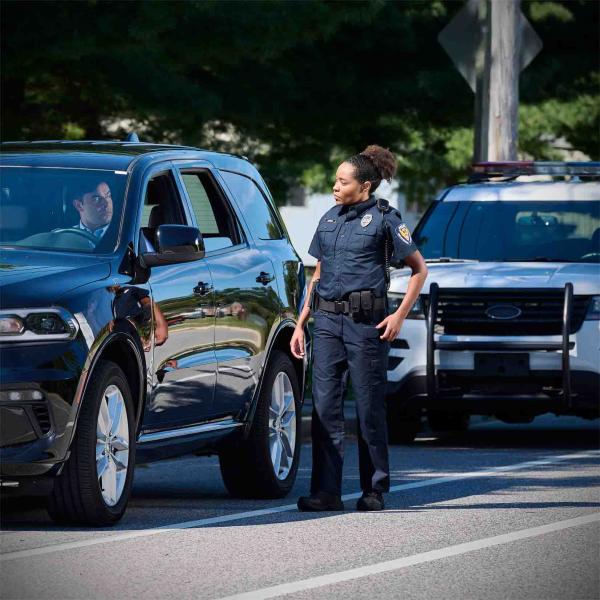 The FSU College of Criminology and Criminal Justice, Center for Criminology and Public Policy Research, is collaborating with the Johns Hopkins University Bloomberg School of Public Health to make our nation's roads safer.
According to the National Highway Traffic Safety Administration (NHTSA), there were 42,795 traffic fatalities in 2022, with the top three causes of death being speeding, impaired driving, and lack of proper occupant restraint. In response, NHTSA created the Innovative Approaches to Advancing Traffic Safety and Enforcement grant to fund research that identifies enforcement strategies and policies that reduce traffic fatalities.
FSU's Policing Research & Policy Institute partnering with the Johns Hopkins Center for Injury Research and Policy (JHCIRP), the National Organization of Black Law Enforcement Officers (NOBLE), the Governors Highway Safety Association (GHSA), and the National Criminal Justice Training Center (NCJTC) received a five-year, $5.3 million cooperative agreement award to test new enforcement strategies that aim to reduce speeding, reduce impaired driving, promote passenger safety, and identify the most effective and efficient enforcement methods while also taking into consideration racial equity. The team will also assess the NHTSA's Law Enforcement Liaison program to develop recommendations for improvement.
Dr. Sheldon Greenburg, the co-principal investigator for the Johns Hopkins team, said deciding to collaborate with FSU's College of Criminology and Criminal Justice was easy, and he looks forward to collaborating with Darrel Stephens of FSU's Policing Research and Policy Institute.
Dr. Greenburg added, "I had the pleasure of working with Darrel for seven years at the Police Executive Research Forum, and he is brilliant. Darrel has over 50 years of experience in policing and will go down in history as one of the nation's top law enforcement and public safety leaders. The findings of this research project could help establish the future direction for the nation's enforcement efforts. Darrel's experience, along with the work of FSU's Policing Research & Policy Institute, made FSU the first choice of a partner for this project."
FSU will provide law enforcement expertise through advising, consultation, and systematic reviews of prior research literature to identify best practices worldwide and lead a working group for the project featuring diverse law enforcement professionals to provide expertise and insight into this work.
In addition, FSU will work with Johns Hopkins, NHTSA, and other project partners to identify various "test sites" around the nation where law enforcement can assess the implementation of program recommendations. FSU will also help develop an updated curriculum for new law enforcement liaisons who serve as vital links and conduits between state highway safety offices and a state's law enforcement community.
Darrel emphasized, "This is an exciting project, and I am proud to be a part of it. NHTSA works daily to keep people safe and save lives on America's roadways. Being part of that with the amazing team at the Johns Hopkins Center for Injury Research and Policy is great. I know this partnership will make a big difference."
The Policing Research & Policy Institute is one of 11 research and policy institutes that branch from the FSU College of Criminology and Criminal Justice's Center for Criminology and Public Policy Research. Through its research, the Institute aims to inform police and security policy with evidence-based practices that engage the community, increase public safety, and secure government and private assets. The Institute partners with the police, the private sector, and other organizations to significantly contribute to evidence-based public and private safety policies and practices.