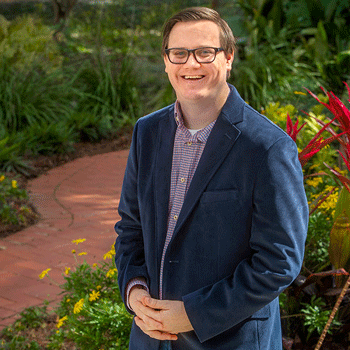 College of Criminology & Criminal Justice Assistant Professor Kyle McLean was recently selected as a member of the 2019 NIJ Law Enforcement Advancing Data and Sciences (LEADS) Academics program.
The LEADS program offers a unique opportunity for early-career academics to engage with NIJ LEADS Scholars, all of whom are mid-career officers dedicated to advancing the police profession through science. Through the LEADS program, NIJ, the International Association of Chiefs of Police  (IACP) and the RAND Corporation aim to encourage the use of evidence-based practices to advance criminal justice, and provide professional development to support the next generation of American law enforcement and leadership.
"The LEADS program represents the cutting edge of policing research with law enforcement professionals dedicated to using data and science to improve law enforcement," said Dr. McLean. "I am very excited to be able to join the program and partner with these dedicated professionals."
Dr. McLean was selected from an extremely competitive group of applicants from across the country for his experience in research and his demonstrated investment in partnering with law enforcement agencies to improve policing.
"We extremely proud of Dr. McLean and his commitment to working with law enforcement agencies to provide support through evidence-based research," said Thomas G. Blomberg, Dean and Sheldon L. Messinger Professor of Criminology. "His work and participation in the LEADS program is just another illustration of the College's mission of bringing research to life."
Kyle McLean received his Ph.D. in Criminology and Criminal Justice from University of South Carolina. His research interests include policing, criminological theory, and social psychology. Dr. McLean's recent research has appeared in Justice Quarterly, the Journal of Research in Crime and Delinquency, and the Journal of Experimental Criminology.