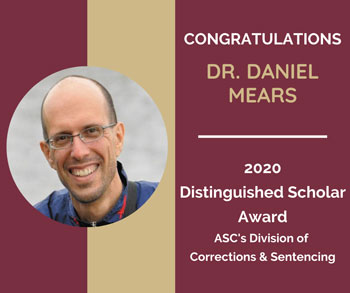 The College is pleased to announce that Daniel P. Mears, Mark C. Stafford Professor of Criminology, is the recipient of the 2020 Distinguished Scholar Award from the American Society of Criminology's Division of Corrections and Sentencing.
This prestigious award recognizes an individual with a lasting scholarly career, particularly emphasizing an individual who has made a ground-breaking contribution to the field in the past five years.
This award is one of many national honors Dr. Mears has received in recent years. In 2019, he was recognized  with the Academy of Criminal Justice Science's Outstanding Book Award for "Out-of-Control Criminal Justice" (Cambridge University Press). In 2018, Dr. Mears was named a Fellow by the American Society of Criminology (ASC). Further, in 2017, Dr. Mears was awarded the Academy of Criminal Justice Science's Outstanding Paper Award.
"We are incredibly proud of Dr. Mears and his most recent of many accomplishments," said Dr. Thomas Blomberg, Dean of the College of Criminology and Criminal Justice. "His history of transcendental work shows his career-long commitment to challenging and refining long-held beliefs in criminology, that have led and will continue to lead to significant, meaningful, and effective criminal justice scholarship and reform."
Dr. Mears is a leading expert in the field. His work focuses on incarceration, crime causation, criminal and juvenile justice, and crime prevention and intervention.
The College wishes to congratulate Dr. Mears on this distinction along with his many outstanding contributions to the field of criminology.