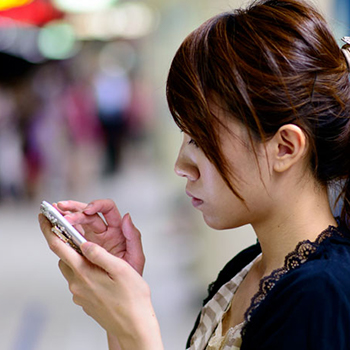 Research conducted by Criminology & Criminal Justice PhD student, Joonggon Kim, was recently featured on PsyPost, a psychology and neuroscience news website that is dedicated to reporting the latest research on human behavior, cognition, and society.
Kim's study, "Unravelling the effect of cell phone reliance on adolescent self-control," looks at smart phone "addiction" and long-term negative effects on self-control in teenagers. The study, which was published in Children and Youth Services Review, suggests that some of the dangers of cell phone reliance may be overstated.
Kim indicated that his idea for the study came from his two children who enjoy playing with cell phones. "My initial curiosity started from the question of whether or not using cell phones is harmful to their development," Kim explained to PsyPost. "I searched for related studies but there was not enough research on the effect of cell phone reliance or addiction on children's psychological development. There was only some research that indicated that children who have psychological problems (e.g., low self-control) are more likely to be addicted to cell phones."
This absence of relevant research conclusions led Kim to explore the area. "I wanted to know whether using cell phones or cell phone reliance was truly harmful to children's psychological development, and one of the aspects of development that I chose was self-control, which is an important factor that influences a variety of outcomes in life," Kim explained.
For the study, Kim and his colleagues, Gyeongseok Oh, and Dr. Sonja E. Siennick, examined data from 2,064 teens who participated in the Korean Children Youth Panel Survey. The longitudinal study collected information about the teens' cell phone reliance and self-control — among other things — from 2010 to 2016.
Cell phone reliance was measured by asking the teens how much they agreed or disagreed with statements such as "I feel anxious when I go out without my cell phone" and "I can't live without a cell phone."
The researchers found no evidence that frequent cell phone use resulted in long-term harm to the teens' self-control.
"According to this study, higher cell phone reliance was associated with lower levels of self-control measured at the same time point. However, cell phone reliance did not have any harmful effects on levels of self-control after 1 year, or on the development of self-control over 3 years," Kim told PsyPost. "This means that although cell phone reliance or addiction may have a harmful effect on self-control in the near term, it does not have a harmful effect on levels of adolescent self-control or on the development of self-control in the long term."
"Although the mechanism of the short-term effect was not tested in our study, we speculate that any restrictions on using cell phones may cause negative emotions like anger, which in turn lower self-control," Kim explained. "Thus, we would say that instead of excessively restricting cell phone use, which might cause hostility among adolescents, it might be better for parents or teachers to lead children to use cell phones in a positive way."
To read the full article, please visit PsyPost.