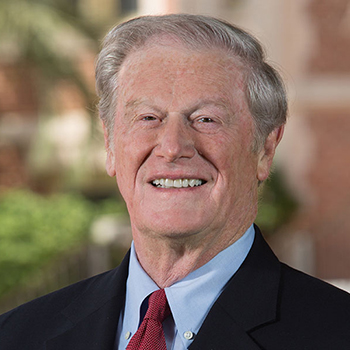 Florida State University President Emeritus John Thrasher has joined the College of Criminology & Criminal Justice as a faculty affiliate. President Thrasher retired this August, after serving as Florida State University's 15th president for seven years.  
As president, Thrasher focused his efforts on elevating FSU's reputation as a preeminent research institution and led the university to recognition as one of the nation's Top 20 public universities. In addition, he presided over a $1 billion fundraising campaign, advanced the university's academic and research mission, championed diversity and inclusion, and welcomed some of the best and brightest students in the university's history. 
In addition to his tenure as president, Thrasher has had a successful career as a businessman, lawyer, lobbyist, and state legislator. Among his many achievements, Thrasher served as the 90th Speaker of the Florida House of Representatives and was instrumental in the passage of significant criminal justice legislation.  
Thrasher's knowledge of the University and professional background will benefit students in this spring's Translational Criminology and Politics class, which he is co-teaching with Dean Thomas Blomberg.  
In Translational Criminology & Politics, Thrasher and Blomberg will trace the development of criminology and criminal justice research and assess the necessary and combined role of partnerships between researchers, policymakers, and practitioners in successfully translating research into evidence-based criminal justice policies and practices. The course will seek to provide students with the tools they need to transcend criminology research beyond the classroom and into the public and private sectors.