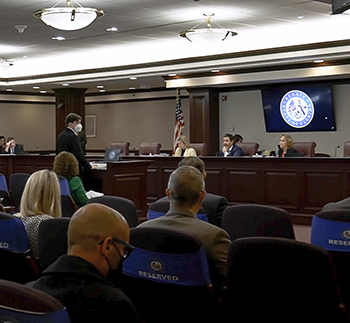 A new course at the FSU College of Criminology and Criminal Justice is designed to help eliminate the barriers between research and effective policy and practice.
Translational Criminology & Politics (CCJ-6920) is co-instructed by FSU President Emeritus John Thrasher and Dean Thomas Blomberg.
This pilot course traces the development of criminology and criminal justice research and evaluates the useful role of partnerships between researchers, policymakers, and practitioners in translating research into evidence-informed juvenile and criminal justice policies and practices.
Dean Blomberg describes this course as the first of its kind in the nation as well as the first of many planned initiatives to embed translational criminology into the criminology curricula. He added, "the world has changed. Criminal justice has changed. Crime has changed. But curriculums across the nation have remained stagnant. At the FSU College of Criminology and Criminal Justice, we lead the country in integrating translational criminology into our curriculum. We want to prepare our students to acquire knowledge, create new knowledge, and apply that knowledge to impact policies and programs that reduce the pain and suffering associated with crime."
President Emeritus Thrasher cannot wait to return to the classroom, saying, "I thoroughly enjoyed presenting a new perspective. Students heard from both College researchers and lawmakers, looked at various best practices in-depth, and we had a little fun along the way".
Click the video below to learn more about the Translational Criminology & Politics course.
The FSU College of Criminology and Criminal Justice leads the nation in research and education. The College of Criminology and Criminal Justice faculty are teachers and scholars who prepare students to be leaders in shaping America's response to crime. A branch of the College, the Center for Criminology and Public Policy Research contributes to evidence-based policymaking and practice at local, state, and national levels by producing policy-relevant research that is published in leading journals.