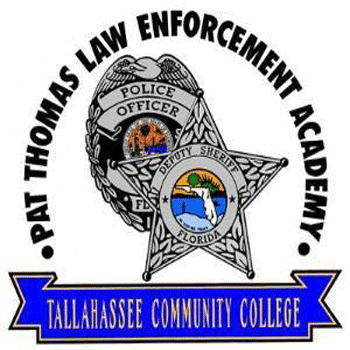 The College of Criminology & Criminal Justice had nine students graduate from the Pat Thomas Law Enforcement Academy on June 11.
The criminology student graduates included Faith Azure, Nicholas Hernandez, Nathan Mageau, Adrian Malave, Ben Mancini, Thomas Pustizzi, Robert Roddy, Garrett Swier, and Autumn Veres.
In addition to making up 25% of the graduating class, the College's students also held 50% of the class's officer positions, with Robert Roddy serving as Sergent-at-Arms and Faith Azure serving as Treasurer.
Students of the College also received three of the eight awards presented at the graduation ceremony. Ben Mancini received the Top Driving Award, Garrett Swier received the Top Physical Fitness Award, and Robert Roddy received the Sergeant Dale Green Memorial Award.
The Pat Thomas Law Enforcement Academy (PTLEA) offers training to become a certified law enforcement officer. Its six-month program is comprised of 17 areas of instruction, which include four high liability areas (Defensive Tactics, Medical First Responder to Emergencies, Criminal Justice Weapons, and Vehicle Operations). Each class also completes at least one community service project to help students understand how to serve as well as protect. Academy graduates are heavily recruited by agencies across Florida.
To learn more about attending the Pat Thomas Law Enforcement Academy and how it can meet internship and minor requirements, please contact Internship Director Katie Dean Moore.
To view a photos from the event, please visit our Facebook Page.