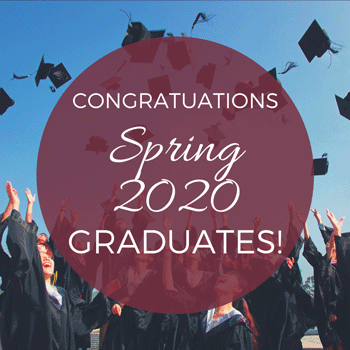 Congratulations to all of our Spring 2020 College of Criminology & Criminal Justice Graduates!
Please join us in celebrating the graduates, listed below, at Florida State University's Virtual Graduation on Saturday, May 2 at 2:00 p.m Eastern time.
The ceremony will be streamed on http://Facebook.com/floridastate, http://YouTube.com/floridastate and http://live.wfsu.org!
To view Dean Blomberg's message to Spring 2020 graduates click here.
Bachelor of Science Graduates
Cameron Abderhalden
Jeffrey Abell
Austin Adair
Terri Adams
Sammy Adesca
Sonia Alam
Brian Alvarado
Chanel Alvarez
Jose Amadeo
Maxwell Ambrose
Bethany Anderson
Meagen Andress
Joseph Andrews
Enchantre Argro
Austin Arnold
Christine Askew
Sofia Azpurua
Samantha Baker
Emilia Barrios
Lindsey Basiliere
Macie Beairsto
Facundo Bentancourt
Jessica Bert
Luiza Biaggi
Tabitha Blackwell
Erika Blanco
Cameron Blount
William Blue
Giovanni Bonilla
Dustin Boone
Delsie Borgen
Ty'Leah Bowie
Kiana Brantley
Daniel Bravo
Dallas Bray
Skylar Brijbag
Alexandra Brooks
Amy Lee Brown
Allie Burroughs
Samantha Cacurak
Austin Cameron
Carlton Campbell
Argerie Campos
Christina Careri
Alison Caron
Matthew Carroll
Victoria Carter
Kevin Castillo
Robert Cimarelli
Michelle Cineus
Joseph Conigliaro
Evan Conner
Louis Cordero
Jennifer Cortorreal
Mtaia Council
Camron Courchesne
Serafina Cruz
Alexander Culpepper
Andre Dalangin
Kristine Davis
Fabiola De Leon
John DeLoach
Renaysha Denegall
Alexandra Devoe
Julia Di Bella
Olivia Diaz
Brian Diaz
Aaron Diener
Lianne Donaldson
Sierra Drady
Jake Drinkwater
Demetra Drizis
Nicole Drummond
Katelyn Durham
Christen Earle
Nicola Eastwood
Kara Ebeling
Ezzard Edwards
Alessandra Eplin
Rachel Erickson
Carrington Estes
Samantha Estis
John Etheridge
Kelsy Etienne
Brett Fitzgerald
Rachel Fluriach
Skylar Foister
Bianca Forte
Bailey Fortier
Auguste Fout
James French
Tyler Gallitz
Alexcia George
Morgan Gibson
Kameron Gingras
Jeffrey Glass
Isabella Gomez
Alyssa Gonnella
Vincent Gonzalez
Victoria Gonzalez
Madeline Gore
Austin Gouveia
Alexandra Grandgenett
Malana Grimes
Kassandra Grimmett
Tiffany Gunning
Katherine Hager
Kennedy Hall
Nicholas Harris
Hunter Hatcher
Sebastian Hayward
Barrett Hess
Abigail Hogarth
Daria Hollingshed
Matthew Honc
Sarah Horne
Charles Houghton
Payton Howarth
Kimberlie Howe
Nigia Hunt
Isabel Innes
Abigail Irwin
Jose Jean-Baptiste
Sergio JIron
Jaime Jonsson
Dieudeline Joseph
Sadie Joyner
Aspen Kaye
Patrick Kelley
Taylor Kelly
Kaitlin Kelly
William Kingsley
Madison Kinney
Daniel Kolos
Alyssa Kopin
Chelsea Lamondra
Kyle Lamonica
Rebecca Landry
Aisha Lange
Marissa Latouche
Kendianna Lavaud
Vincent Lay
Haines Layfield
Gabriella Lazazzara
Briana Le
Emma Leonetti
Jordan Lindsay
Kayla Lindstam
Sean Lopez
Ashley Loseille
Connor Loughran
Emily Maberry
Riley Magoulis
Sripragnya Mangalampalli
Marissa Marsh
Julie Marsico
Madison Masters
John Mataxas
Alyssa Matthews
Ashtyn McDaniel
John McGowan
Olivia McKenzie
Tre McKitty
Brooke McKnight
Samira Medor
Sarah Meinel
Kelsie Merritt
Zoee Metts
Brittany Miehe
Madison Mills
Jack Mills
John Moeder
Hunter More
Tomas Mosquera
Noah Netko
Mark Neuman
Spencer Nicholson
Shelby Norton
Deidre Nunn
Brandon O'Dell
Jordan Odum
Rachel O'Neal
Tyler Orlando
Anthony Owens
John Parsons
Kai Patrick
Emma Pearson
Jordan Perez
Andrew Phillips
Mackenzie Photos
Tess Pickering
Lusanda Pierre
Christopher Pinango
Sean Pittman
Stephen Plazewski
Victoria Pleus
Franklin Poy
Jillian Priest
Travis Quillin
Alexis Radermacher
Emma Ray
Shane Reilly
Taylor Rice
Timothy Rice
Nathalie Robinson
Michael Rogers
William Ross
Hannah Rottenberg
Morgan Sadler
Veronica Sandoval
Jessica Sarnelli
Samantha Seiglie
Jordan Shapiro
Nathan Sharley
Aidan Shearer
Anthony Shirley
Danielle Sikes
William Smith
Alexandria Smith
Brooke Soloway
Usana Sookdeo
John Spatz
Ashley Spivey
Nicholas Stachnik
Dakota Stevens
Celeta Stewart
Katelynn Sullivan
Natalie Taylor
Jazzi Taylor Burton
Toan Thai
Octavia Thomas
Helen Thurtle
Julia Tirado
Keaton Tiwary
Jacob Torres
Joshua Upshaw
Alexis Valcarcel
Sabrina Vallina
Ethan Vaughn
Eliot Veith
Alyssa Vincent
Ke'Yana Walker
Gregory Walters
Ashley White
Shaugnassy Williams-Bryant
Shannon Wilson
Aerrick Wimsatt
Sebastian Wright
Emily Zambrano
Izabela Zbyrowska
Emili Zukoski
Valentina Zuniga
Master of Science Graduates
Hanna Amirzadehasl
Matthew Anderson
Aris Averkiou
Floyd Boyer
Eric Breiding
Jennifer Brown
Tanya Brown
Anthony Collier
Brianna Cruz
Matthew Dillon
Ariel Elliott
Carinna Estevez
Sarah Freglette
Karl Hachmann
Baylei Hoffmann
Bridget Joyner
Justin Kalarchian
Brennan Kirkpatrick
Donnell Livingston
Victoria Lluis
Kaitlyn Mann
Thomas McGowan
Yaneisy Padrino Munoz
Kevin Rene
Sade Renee
Olivia Robinson
Tarah Sanchez Smith
Lani Skolnick
Jenafyr Stewart
Devon Sumrow
Joshua Teachey
Shelby Watson
Hannah Welsh
Daniel Williamson
Amanda Winterstein
Doctor of Philosophy Graduates
Nicole Collier
Raquel Lara Velez Oliveira
Brae Young