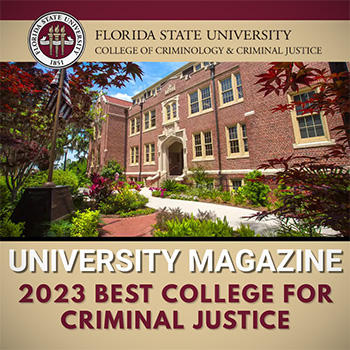 FSU College of Criminology and Criminal Justice is the best college for criminal justice, according to University Magazine.
The magazine released their 2023 Best Colleges for Criminal Justice rankings on May 29, with Florida State University taking the top spot.
They base the rankings on several factors, including academic excellence, faculty expertise, student success rates, and the comprehensiveness of their criminal justice programs.
Earlier this year, the College also received a #1 ranking for faculty research productivity and scholarly influence by the Journal of Criminal Justice Education.
Dean Thomas Blomberg stated, "We are pleased with our College's latest #1 ranking as one of the very best places to study criminology. But we are most pleased with the success of our students who are completing their criminological education at FSU and going forward in making a positive difference in our country's efforts to effectively confront and reduce crime and criminal victimization."
Please visit the College's Prospective Students webpage to begin exploring degree programs and connect with College advisors who will help you discover which path is right for you.
University Magazine is a daily guide to student life. Articles feature university rankings, recommendations, career advice, student health, financial advice, and scholarship sources.