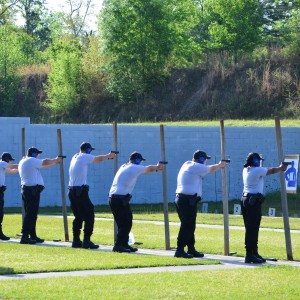 Each month the College of Criminology and Criminal Justice will feature an internship opportunity especially for criminology students. As well as being great additions to your resume, the featured internships can also be taken for academic credit. This month's featured internship is the Pat Thomas Law Enforcement Academy (PTLEA).
PTLEA recruits spend several months in a training program to become a certified law enforcement officer. As part of the training program, recruits are required to take courses on 17 areas of instruction, from high liability (i.e. defensive tactics, medical first responder, etc.) to the legal block (search and seizure rules, etc.). After completing all the courses, the students take the certified law enforcement exam. Upon passing the exam, the students are eligible to become law enforcement officers.
This internship opportunity offers a seamless transition from job training to a career in law enforcement. Pat Thomas graduates are heavily recruited from agencies all across Florida.
Learn more about the Pat Thomas Law Enforcement Academy, as well as scholarships available for this program.
To apply for a scholarship to the Pat Thomas Law Enforcement Academy complete and submit your application by the March 15 deadline.
To find out how you can attend the Pat Thomas Law Enforcement Academy for academic credit, visit our website.