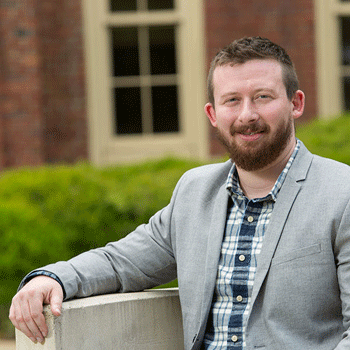 The College of Criminology & Criminal Justice is pleased to announce that Assistant Professor Brendan Lantz has been selected as the 2021 Academy New Scholar awardee for the Academy of Criminal Justice Sciences.
This prestigious award recognizes outstanding scholarly contributions to the study of crime and/or criminal justice by someone who has received their most recent doctoral degree within the past six years. Scholarly contributions include, but are not limited to, books, articles, book chapters, reviews, technical reports, grants, or papers presentedto scholarly associations.
Dr. Lantz was selected by a three-person committee from a highly qualified group of young scholars. He was a standout because within only three years after graduating with a Ph.D. from Penn State University, Dr. Lantz has published 13 refereed articles, 11 of which are in Top 25 journals the field. Additionally, he has external grant awards totaling approximately $49,000.
This is not the first New Scholar Award for Dr. Lantz. He was also the recipient of the 2020 Academy of Criminal Justice Sciences (ACJS) Victimology Section New Scholar Award.
"We are extremely pleased that Dr. Lantz has received this honor," said Dean Thomas Blomberg. "Although he has only been with the College a short time, he has brought and will continue to bring outstanding recognition to the College through his dedication to students and through scholarship."
Dr. Lantz has been an Assistant Professor with the College since receiving his Ph.D. in Criminology from Pennsylvania State University in 2017. He also serves as the Director of the Hate Crime Research and Policy Institute, a branch of the College's Center for Criminology and Public Policy Research. His research interests focus on hate crime, violence, victimization, and co-offending.
The College congratulates Dr. Lantz on this well deserved honor and his outstanding work in the discipline.