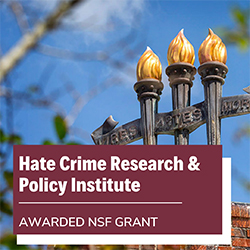 A National Science Foundation grant totaling $236,985 was recently awarded to the College's Hate Crime Research and Policy Institute. This grant will fund the institute's two year-study, "Understanding Hate Crime Victimization and Reporting," conducted by Dr. Sylwia J. Piatkowska and Dr. Brendan Lantz.
Although the Hate Crime Statistics Act of 1990 requires the Federal Bureau of Investigation (FBI) to publicly report hate crime statistics, hate crimes are often under-identified. The institute will investigate deviation in the nature and extent of hate crime victimization and the underreporting of hate crimes across local communities, areas that are now largely unexplored.
With this information, the project will investigate the effects of contextual and other characteristics on hate crime victimization and reporting. Findings from this project will aid scholars, policy makers, and the public on issues related to hate crimes, including localized variation in hate crime and reporting, data-collection strategies, better identification of strategies to attend to the needs of victims, and assessment of programs related to hate crime victimization and reporting.
"It has long been known that hate crimes are underreported," said Dr. Piatkowska. "With this National Science Foundation grant, we plan to explore the sources, causes, and extent of the underreporting, and hopefully provide ways to address those problems in the future."
The Hate Crime Research & Policy Institute is committed to advancing research on hate crime offending and bias victimization. The institute examines the ways that hate, bigotry, and extremism influence the victimization of people on the basis of race, ethnicity, religion, gender, gender identity, sexual orientation, disability, and other personal characteristics. This includes research related to spatial and community-level influences on hate crime, victim interactions with the criminal justice system, and the impact of public policy on hate crime offending. Hate crimes have increased significantly across the nation in recent years, and the mission of the institute is to (1) conduct research to advance knowledge on hate crime and (2) develop evidence-based recommendations for improving policies related to hate and bias crime.