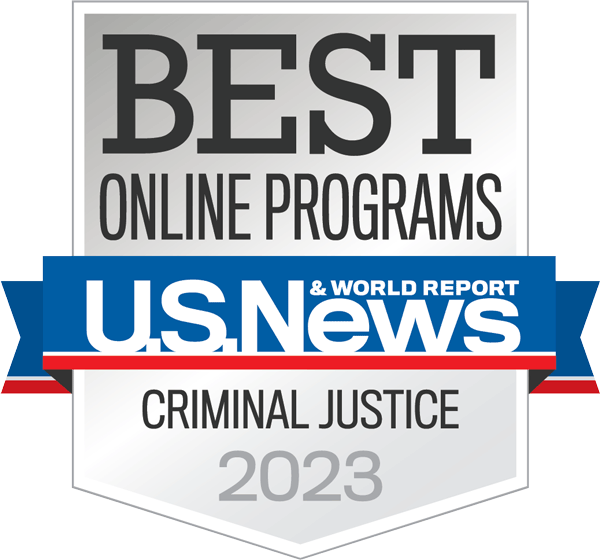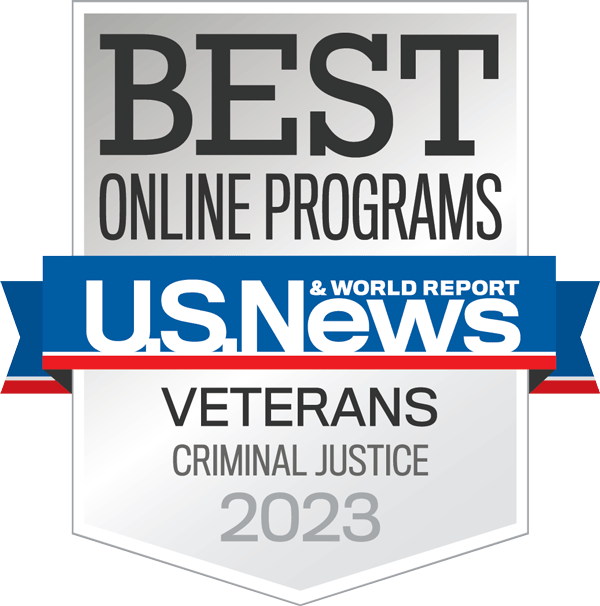 Requirements for Admission Consideration
A bachelor's degree from an accredited college or university
Proof of previous academic achievement, illustrated by GPA.
The GRE is waived for all applicants applying through the fall 2026 semester.
A minimum 300- to 500-word statement describing your reasons for seeking a master's degree through a distance learning program and your ultimate career goals. Where possible, please describe those interests in reference to topical issues and areas of research in criminology and criminal justice that inspire your career goals. 
Your current resume
For International Students:
International students whose native language is not English and who have not completed an undergraduate or graduate degree at an English-speaking University must provide a score for the Test of English as a Foreign Language (TOEFL). The score must be at least 600 on the paper-based test, or at least 250 on the computer-based test, or at least 100 on the Internet-based ibTOEFL test.
All transcripts/academic records that are not in English must be accompanied by certified English translations. 
For more international applicant information, including financial responsibilities, degree equivalency, etc., visit gradschool.fsu.edu/admissions/international-admissions.
Criminology is a multidisciplinary field. We encourage students with various majors as diverse as biology, computer science, and economics to apply. There are no criminology coursework prerequisites.
Apply through the FSU Admissions website by clicking "Apply Now!": https://admissions.fsu.edu/
Coursework
The program requires a total of 36 hours of graduate credit. Of these, 15 hours will be required of all students as core courses, which we list below. The remaining 21 credits will come from electives. Of these, 12 credit hours should come from courses within the College Of Criminology and Criminal Justice, but up to 9 hours of electives may come from approved courses from other disciplines. A grade of "C" or higher must be earned in all core courses. Students must maintain an overall GPA of 3.0. 
Elective credit hours can also be earned through a part-time or full-time internship or an area paper or thesis. More information on the internship program can be found here: https://criminology.fsu.edu/internships-and-careers/masters-internship-program
More information on the area paper or thesis can be found on pg 4 here: 2023-2024 Graduate Campus Handbook
Core Courses
CCJ 5606 Survey Criminological Theories (3)
The primary purpose of this course is to provide students with a deeper understanding of criminological theory. Physiological, genetic, psychological, and psychiatric theories of criminal behavior.
CCJ 5285 Survey of Criminal Justice Theory & Research (3)
An overview of the theoretical issues and research on the law and legal control of deviance in society.
CCJ 5078 Computer Applications in Criminal Justice (3)
An introductory course in the use of the computer and the Internet. Will include discussion of the use of these technologies within the criminal justice system. Class will cover word processing, spreadsheets, databases, graphics, and Internet applications such as email, chat, forum discussions, search engines, web page browsers, etc.
CCJ 5705 Research Methods in Criminology I (3)
Research design for criminological studies with an emphasis on data collection methods and measurement of validity and reliability.
CCJ 5706. Applied Statistics in Criminology I (3)
This course focuses on the use of statistical techniques in criminology.
Criminology Elective Course Examples
Electives offered each semester may or may not be included in the list below:
CCJ 5669 Race, Ethnicity, Crime & Social Justice (3)
This course considers the relationships among race, ethnicity, and crime in the justice system. The effect of social policy on racial and ethnic inequality is studied, and theories of ethnic and racial justice are presented in terms of their effect on crime and criminal justice.
CJL 5420 Criminal Law, Procedures & Individual Rights (3)
The criminal justice system is based upon substantive and procedural criminal law. It is also a system of rights. This class considers the definitions and development of criminal law, criminal procedure and criminal rights, with special attention to constitutional theory and practice.
CCJ 5546 Prevention & Treatment Of Crime & Delinquency (3)
Theoretical development of crime prevention, punishment, and treatment. Topics include historical models of crime control, growth of crime prevention, and aspects such as environmental design, community action programs, and technology systems.
CCJ 5636 Comparative Criminology & Criminal Justice (3)
Courses covers a large quantity of factual information about the nature and amount of transnational crime and about the agencies which study and seek to control transnational crime.
CCJ 5456 Criminal Justice Administration (3)
An application of organization and administration theories to the criminal justice system. The course uses an interactionist perspective of Administration to facilitate understanding of the fundamentals of all organizations, including criminal justice organizations.
CJC 5020 Penology (3)
A survey of approaches to corrections, correctional institutions, their residents, programs and management, and special problems such as probation and parole, riots, outside contacts, and special institutions.
CJE 5024 Police & Society (3)
A social psychological examination of current issues and problems in municipal law enforcement, including such topics as the informal exercise of police authority, police role conflict, the relative significance of law enforcement and social service, and interactional dynamics of police subculture.
CCJ 6665 Victimology (3)
Introduces students to the field of victimology and explores its conceptual boundaries, basic concepts and literature within various subareas. The course will explore policy developments and practical applications which stem from the concern over victims.The progression from a criminal to a victim justice system will be emphasized.
CCJ 5981r Directed Individual Study (3) (S/U grade only)
A course with contents determined by the student in consultation with the instructor, with whom the student meets regularly for supervision of the study. May be repeated to a maximum of 6 semester hours.
The complete list can be found on the bulletin: https://registrar.fsu.edu/bulletin/graduate/departments/criminology/
Transfer Credit Policy
Transfer credit is awarded for graduate course work completed at an accredited institution of higher learning. Up to 6 credit hours may be applied as credit towards your degree.
Coursework may not have been already used towards a previous degree. A grade of "B" or higher must be earned in course to transfer.
FSU Bookstore Information
 
Florida State University (Follett)
Mailing address

Located inside the Student Union

75 N. Woodward Ave.
Florida State University Bookstore

Tallahassee, FL 32306

Online ordering
Order online with Efollett
E-mail address
fsu@bkstr.com
Phone # (toll free)
1-850-644-2072
Fax #
1-850-644-9953
Method of payment accepted
Visa, MasterCard, American Express, Discover, check, or money order
Shipping Charge

Yes

Website
https://www.bkstr.com/floridastatestore/shop/textbooks-and-course-materials
System Requirements
You need basic computer ware to take distance courses. You must own or have regular access to:
A computer or laptop

Reliable internet
Computer Specs Required
Information on connecting to campus technology here.
Tuition and Fees
Tuition: $553.70 per credit hour
+ Resident Fee: $30.18 per credit hour
+ Non Resident Financial Aid Fee: $30.16 per credit hour
= $614.04 per credit hour
Student Facility Use Fee: $20.00 per semester
Related Links
 

Related Downloads