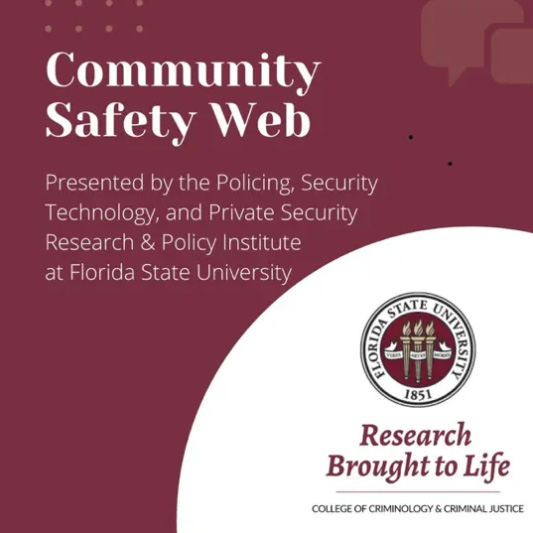 The Co-Directors of the Policing, Security Technology, and Private Security Research & Policy Institute want to deliver the work of the Institute through an on-demand podcast.
The Community Safety Web podcast, hosted by the father/son duo of Darrel and Brian Stephens, was created to promote the Institute within the fast-growing world of on-demand audio.
The podcast publishes a new 30-minute episode each month, discussing a variety of policing and private security topics curated by Brian and Darrel. 
Recent episodes include Mass Shootings and Gun Violence, Understanding Stress and Burnout in Police Chiefs, and Emerging Security & Safety Technologies that are Solving Problems & Reducing Risk.
Darrel added, "Many of our topics directly align with nationwide news headlines. With the help of wonderful guests such as Cathy Lanier (Senior Vice President of Security for the National Football League), Rick Smith (Axon CEO and Founder), and Drew Levine (Chief Operating Officer for the East Division of Allied US), we strive to present lively discussions on topics of interest for both police and private security industry professionals.
The podcast has hundreds of downloads and thousands of social media impressions, but they would like to see even more engagements in the future. Brian hopes that the information presented continues to bring visibility to the Institute and create collaborative research.
Brian said, "It has been a great experience creating and hosting these podcasts. We have learned a lot from these discussions, and we want to share that knowledge to help reinforce the goals of the Policing, Security Technology, and Private Security Research & Policy Institute to reimagine policing, security, and technology through evidence-based research, policy, and practice."
To listen, please visit the Community Safety Web Podcast webpage, or find it where you stream your favorite podcasts.
Brian Stephens is a Senior Managing Director with Teneo Security Risk Advisory and previously served as Bank of America's Chief Security Officer. Brian also worked in several branches of the Florida Department of Law Enforcement, including the Division of Criminal Justice Information Systems and the Florida Criminal Justice Executive Institute. He is also an inductee into the FSU College of Criminology and Criminal Justice Hall of Fame.
Darrel Stephens is an accomplished police executive with over 50 years of experience. He has written extensively about policing, is a widely sought-after consultant, and is a frequent speaker advocating progressive policing approaches. Darrel served as the President, Vice President, and Legislative Committee Chair of the Major Cities Police Chiefs Association. In 2010 he was inducted into the Evidence-Based Policing Hall of Fame. He was the recipient of the Major Cities Chiefs Association 2017 Leadership Award. He received the Sir Robert Peel Medal for Evidence-Based Policing from the Police Executive Program at Cambridge University.
The Policing, Security Technology, and Private Security Research and Policy Institute is one of 11 research and policy institutes that branch from the FSU College of Criminology and Criminal Justice's Center for Criminology and Public Policy Research. Through its research, the Institute aims to inform police and security policy with evidence-based practices that engage the community, increase public safety, and secure government and private assets. The Institute partners with the police, the private sector, and other organizations to significantly contribute to evidence-based public and private safety policies and practices.